CEO MESSAGE
A Message From Our President and CEO Michel A. Khalaf
MetLife's Unwavering Commitment to Sustainability
At MetLife, when we talk about what it means to be sustainable, we are focused on how we can make the world a better place for all of our stakeholders—employees, customers, shareholders, communities, and society as a whole.
For much of MetLife's history, the principal societal problem we helped solve was broad-based financial insecurity. Over time the scope of our contribution has expanded significantly. Informed by the U.N.'s Sustainable Development Goals, we have strengthened our commitments across environment and climate, equity and inclusivity, health and well-being, and economic growth.
To help address climate change, for example, we've dedicated $74 billion of our portfolio to responsible investments that generate positive social and environmental impacts and set 11 new environmental goals to meaningfully reduce our footprint by 2030.
To advance gender and racial equity, we elevated our Chief Diversity and Inclusion Officer to be a direct report to the CEO and made firm commitments to improve diversity within our own ranks and equity within society more broadly.
To aid disadvantaged communities, we have a Foundation that is closing in on $1 billion in grants since its founding in 1976—including $25 million to help communities respond to and recover from COVID-19—and an employee base that volunteered 60,000 hours in 2020.
We are fortunate to be able to approach sustainability from a position of strength, with a balance sheet that creates significant social and economic value. The liabilities of a life insurance company are a promise to pay when people face devastating losses, making us an extended part of the social safety net. We distribute about $30 billion a year in claims and benefits.

Similarly, the assets of a life insurance company provide a vital source of long-term capital. MetLife alone invests nearly $500 billion in various sectors of the economy—agriculture, energy, infrastructure, housing and businesses of almost every kind—to fuel economic growth and job creation.
From this firm foundation, we have the opportunity—and the obligation—to deploy the full strength of our people, investments, products, services, and giving to be a greater force for good.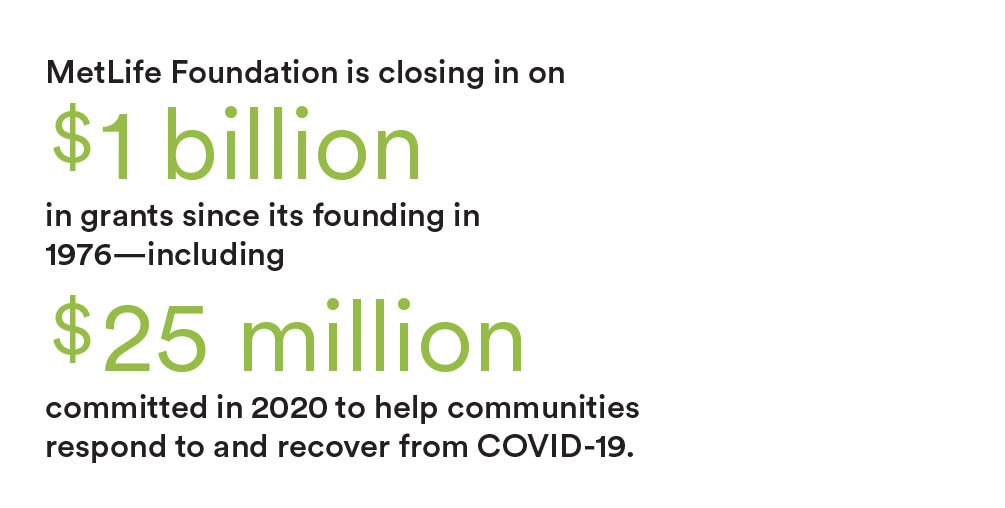 As one of my first acts upon becoming CEO in 2019, I asked the senior leadership team to articulate a purpose statement for MetLife that would capture the essential role we play in the world. That statement—Always with you, building a more confident future—now permeates every part of our business, from our strategy and culture to our DEI and sustainability efforts.
Just as the senior leadership of MetLife is a steward of this great company, charged with ensuring it can make good on its promises long after we're gone, MetLife itself is part of a larger world and has an obligation to act in a manner that sustains long-term social and economic value.
As you read our latest Sustainability Report, I hope you will appreciate what living our purpose means to us at MetLife—that in order to build a more confident future, we know we must contribute to a more sustainable one.
Michel A. Khalaf
President and Chief Executive Officer
MetLife, Inc.
Want the full report?
Download for comprehensive insights and strategies.