Affordable Housing
Affordable housing investments include U.S. Low Income Housing Tax Credit and U.K. Social Housing investments. U.S Low Income Housing Tax Credit investments include federal tax credit equity investments, financing affordable rental housing, and state tax credit investments that are made with substantially similar requirements. Affordable units in a project may charge no more than 30% of a household's income, and the average income of all households in assisted units is 60% of Area Median Income or below. U.K. Social Housing investments involve social housing providers in the U.K. and overseas territories through investments in nonprofit organizations that provide rental homes at below-market rents to low-income earners, including teachers, nurses, council workers, and the elderly and infirm.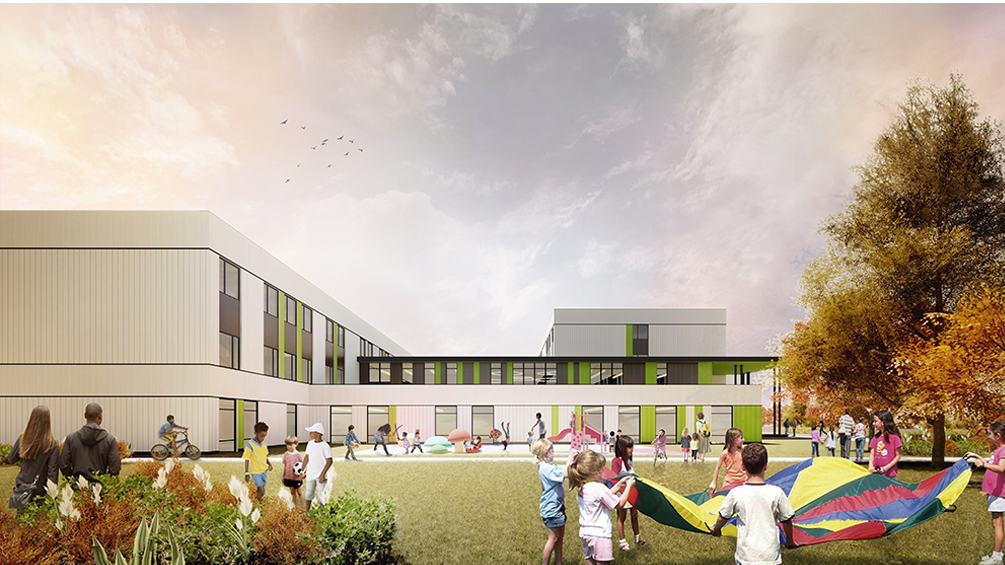 Rendering of a future Prince George's County school.
Approach
We invest in high-quality housing projects that build financial health and bring tangible benefits to communities.
Affordable housing: Building affordable homes in the U.K. 
MIM directed a £48M (approximately $59 million) investment in Community Gateway Association ("CGA"), a U.K.-based company specializing in providing affordable rental homes and shared ownership homes to its customers. To complement its social work in the community, CGA also offers employment and training to young people, as well as helping its residents with access to foodbanks and debt advice. As of March 31, 2020, CGA provided over 6,600 homes in its area of operation in the northwest of England.
Infrastructure Investments
MIM's infrastructure investments are typically private debt issuances and projects supporting airports, ports, transportation (roads, rail, bridges), transmission, energy management systems, social infrastructure (stadiums and courthouses), data centers, metering, telecom, and water.
Approach
We invest in infrastructure projects that create local jobs and economic benefits. These could include building or upgrading airports, ports, roads, pipelines, transmission lines, and power generation—including wind and solar projects.
Public-Private partnership Supporting Public Education
MIM supported Maryland's Prince George's County Public Schools, the second-largest public school system in the state and a top 20 public school district in the United States, in a public-private partnership (PPP) with $203.5 million in construction financing for six new public schools. The design-build project, which is expected to take three years, will involve the demolition of four aging schools and the simultaneous construction of six new schools (five middle schools and one K-8 school), which will provide a modern learning environment for approximately 8,000 students. The project is further supportive of the community with requirements that at least 30% of the contract value be allocated to local and minority-owned businesses and approximately 4,100 people be employed. Led by MIM's Private Capital team, this unique PPP transaction is believed to be one of the first of its kind involving a public school system in the U.S.
Municipal Bonds
A municipal bond is a public debt security issued by a state, municipality, or county to finance its capital expenditures, including the construction of highways, bridges, or schools.
Approach
We support infrastructure, education, and community services, spanning approximately 400 municipalities in 47 states and Washington, DC.
Supporting vulnerable people during the pandemic with The Rockefeller Foundation
In 2020, MIM directed a $20 million investment in the bonds of The Rockefeller Foundation, a nonprofit organization founded in 1913 with a mission to promote the well-being of humanity throughout the world. The Foundation's initial $700 million bond offering is designed to accelerate its grant-making capacity in the program areas of global public health and sustainable energy. Within its Precision Public Health initiative, the Foundation will further focus its programmatic activities toward a more equitable and inclusive health response to the global COVID-19 pandemic by scaling up its testing and tracing activities and preparing countries for a vaccine rollout. Within its Power & Climate Initiative, the Foundation plans to accelerate its initiative to deliver renewable energy to poor, underserved rural populations in Africa, Asia, and Latin Americain support of a green and equitable recovery from the COVID-19 pandemic.
Impact Investments
We define impact investments as those investments that are made with the intention to generate positive, measurable social and environmental impact alongside a financial return. MetLife and MIM have been active in the impact investment market for over 35 years. Our impact investments are originated specifically to generate positive societal benefits in the markets where we live and work. Learn more about our impact investments here.