Read on for more in this Chapter
MIM has a long history of responsible investing. We define responsible investments1 as investments that achieve both a market financial return andpromote social and/or environmental benefits. MIM's responsible investments focus on the following core areas:
Green investments2
Affordable housing
Infrastructure
Municipal bonds3
Impact investments
Responsible Investments Under Management (in millions)
Green investments
$ 28,672
Affordable housing investments
$3,111
AnnualInvestments inmillions
Green investments
$ 3,883
Affordable housing investments
$200
Green Investments
Approach
MIM has a long history of investing in companies and projects that are focused on the conservation of natural resources, the production and discovery of alternative energy sources, the implementation of clean air and water projects, and other environmentally conscious business practices.

Expanding Energy Star
MIM's real estate equity team and other asset managers conduct due diligence on all new acquisitions, including a formal review of a broad spectrum of ESG risks and opportunities. Risk and opportunities evaluated include factors such as overall building performance and energy efficiency; viability of green certifications like LEED, ENERGY STAR, and BREEAM5; indoor environmental quality; occupant health and safety; toxic materials; environmental assessments; and compliance with accessibility regulations. In 2020, MIM provided ENERGY STAR Portfolio Manager training for more than 150 property managers to help them benchmark their buildings. By the end of 2020, MetLife and MIM had earned ENERGY STAR certification for 46 buildings. We implement our objectives with the intention to increase the efficiency and sustainability of MetLife's real estate portfolio, to improve operational and financial performance, and to embed these ESG initiatives in our investment decisions.
In addition, MIM pursues its own performance goals, with progress published annually through specific and quarterly investor summaries, specific to equity real estate holdings. Our 2025 goals include:
Register and benchmark utility usage to EPA's ENERGY STAR Portfolio Manager across 100% of our owned and investment properties;
Pursue LEED and ENERGY STAR certification for all eligible buildings;
Reduce energy consumption and greenhouse gas emissions by 20%, reduce water consumption by 10%,and improve waste diversion by 10% by 2025—in line with our commitment to the Better Building Challenge;
Engage tenants in energy, water, and waste management initiatives to drive reductions;
Provide quarterly reporting on MetLife Real Estate energy and sustainability initiatives; and
Perform energy assessments (such as ENERGY STAR Treasure Hunts) and implement cost-effective strategies to improve energy and water efficiency.
Renewable Energy: Iceland
In 2020, MIM supported Landsvirkjun in two private placement debt transactions. Landsvirkjun, the National Power Company of Iceland, is owned by the Icelandic state and produces electricity from 100% renewable resources. Since 2018, MIM has participated in all three of Landsvirkjun's private placement transactions. Investments in hydropower generators, and Landsvirkjun in particular, are representative of MIM's focus on investing in renewable energy as part of our broader ESG investment strategy.
Achieving carbon neutrality with MetZero
Building off of MetLife's operational carbon neutrality commitment6 since 2016, MIM created the MetZero™ program to seek to achieve carbon neutrality at its investment real estate properties. Several MIM investment fund products collaborated in 2020 to launch the MetZero™ Program to seek to achieve carbon neutrality. MIM developed the program based on our benchmarking in ENERGY STAR Portfolio Manager and organized around our proprietary Carbon Cascade™ approach, where emissions are systematically lowered through a series of investment tranches. First, emissions are reduced as much as possible through energy management and implementation of on-site renewables and increased use of collaboration tools to reduce employee business travel. The remaining emissions are then offset through the purchase of renewable energy, carbon offsets, and renewable energy certificates.
Baltimore's 414 Light Street: Environmental and Tenant Wellness
MIM originated a $119 million commercial mortgage loan on 414 Light Street, a newly built LEED Silver multifamily building situated on Baltimore's Inner Harbor waterfront. The transit-oriented property's location on the city's waterfront offers residents superior access to multiple modes of transportation. It is three blocks from Camden light rail and MARC commuter rail station, as well as the Charm City Circulator, a free rapid shuttle bus that has a stop directly adjacent to the site, along with two water taxi stops within a block of the site providing transportation across the Inner Harbor. This unique transit access makes the property an attractive option for residents who commute to Washington, D.C., and major employment hubs at Fort Meade/National Security Agency and Howard County. The property's location, which boasts a Walk Score of 97, also offers residents walkable access to numerous retail, dining, and entertainment options and easy access to employers in the Central Business District.
The property offers its tenants plentiful environmental amenities, including smart thermostats, a green roof, electric vehicle charging stations, and dedicated parking for fuel-efficient vehicles. Tenant wellness also features prominently, with a 24/7 lifestyle concierge team devoted to resident services and wellness programs, a fitness center, yoga and movement studio, and a community garden featuring herbs and vegetables.
Louisiana's Sidney A. Murray Jr. Hydroelectric Station
In 2020, MIM facilitated a $130 million investment in Brookfield Renewable Partners' Sidney A. Murray Jr. Hydroelectric Station in Louisiana. The 192-megawatt run-of-river facility is located adjacent to the Mississippi River in Concordia Parish, Louisiana. It was developed in 1990 and is considered one of the leading sustainable assets in Louisiana, providing renewable electricity generation through hydropower in a region of relatively high carbon intensity. It is also part of the Old River Control Complex, a collection of four structures operated to better manage flooding in the region.

The $130 million investment, part of a larger $560 million private placement financing executed by Brookfield, was facilitated by MIM's Infrastructure team and funded by MetLife and six unaffiliated MIM clients. The proceeds support Brookfield's ownership of the facility as a global leader of renewable power with strong ESG principles and practices.
Affordable Housing
Affordable housing investments include U.S. Low Income Housing Tax Credit and U.K. Social Housing investments. U.S Low Income Housing Tax Credit investments include federal tax credit equity investments, financing affordable rental housing, and state tax credit investments that are made with substantially similar requirements. Affordable units in a project may charge no more than 30% of a household's income, and the average income of all households in assisted units is 60% of Area Median Income or below. U.K. Social Housing investments involve social housing providers in the U.K. and overseas territories through investments in nonprofit organizations that provide rental homes at below-market rents to low-income earners, including teachers, nurses, council workers, and the elderly and infirm.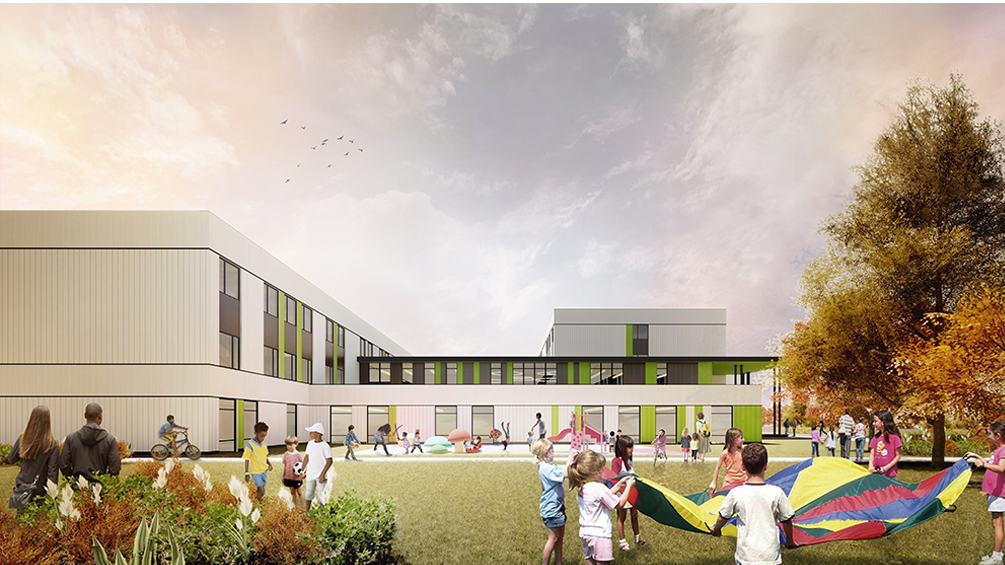 Rendering of a future Prince George's County school.
Approach
We invest in high-quality housing projects that build financial health and bring tangible benefits to communities.
Affordable housing: Building affordable homes in the U.K. 
MIM directed a £48M (approximately $59 million) investment in Community Gateway Association ("CGA"), a U.K.-based company specializing in providing affordable rental homes and shared ownership homes to its customers. To complement its social work in the community, CGA also offers employment and training to young people, as well as helping its residents with access to foodbanks and debt advice. As of March 31, 2020, CGA provided over 6,600 homes in its area of operation in the northwest of England.
Infrastructure Investments
MIM's infrastructure investments are typically private debt issuances and projects supporting airports, ports, transportation (roads, rail, bridges), transmission, energy management systems, social infrastructure (stadiums and courthouses), data centers, metering, telecom, and water.
Approach
We invest in infrastructure projects that create local jobs and economic benefits. These could include building or upgrading airports, ports, roads, pipelines, transmission lines, and power generation—including wind and solar projects.
Public-Private partnership Supporting Public Education
MIM supported Maryland's Prince George's County Public Schools, the second-largest public school system in the state and a top 20 public school district in the United States, in a public-private partnership (PPP) with $203.5 million in construction financing for six new public schools. The design-build project, which is expected to take three years, will involve the demolition of four aging schools and the simultaneous construction of six new schools (five middle schools and one K-8 school), which will provide a modern learning environment for approximately 8,000 students. The project is further supportive of the community with requirements that at least 30% of the contract value be allocated to local and minority-owned businesses and approximately 4,100 people be employed. Led by MIM's Private Capital team, this unique PPP transaction is believed to be one of the first of its kind involving a public school system in the U.S.
Municipal Bonds
A municipal bond is a public debt security issued by a state, municipality, or county to finance its capital expenditures, including the construction of highways, bridges, or schools.
Approach
We support infrastructure, education, and community services, spanning approximately 400 municipalities in 47 states and Washington, DC.
Supporting vulnerable people during the pandemic with The Rockefeller Foundation
In 2020, MIM directed a $20 million investment in the bonds of The Rockefeller Foundation, a nonprofit organization founded in 1913 with a mission to promote the well-being of humanity throughout the world. The Foundation's initial $700 million bond offering is designed to accelerate its grant-making capacity in the program areas of global public health and sustainable energy. Within its Precision Public Health initiative, the Foundation will further focus its programmatic activities toward a more equitable and inclusive health response to the global COVID-19 pandemic by scaling up its testing and tracing activities and preparing countries for a vaccine rollout. Within its Power & Climate Initiative, the Foundation plans to accelerate its initiative to deliver renewable energy to poor, underserved rural populations in Africa, Asia, and Latin Americain support of a green and equitable recovery from the COVID-19 pandemic.
Impact Investments
We define impact investments as those investments that are made with the intention to generate positive, measurable social and environmental impact alongside a financial return. MetLife and MIM have been active in the impact investment market for over 35 years. Our impact investments are originated specifically to generate positive societal benefits in the markets where we live and work. Learn more about our impact investments here.
Want the full report?
Download for comprehensive insights and strategies.