Read on for more in this Chapter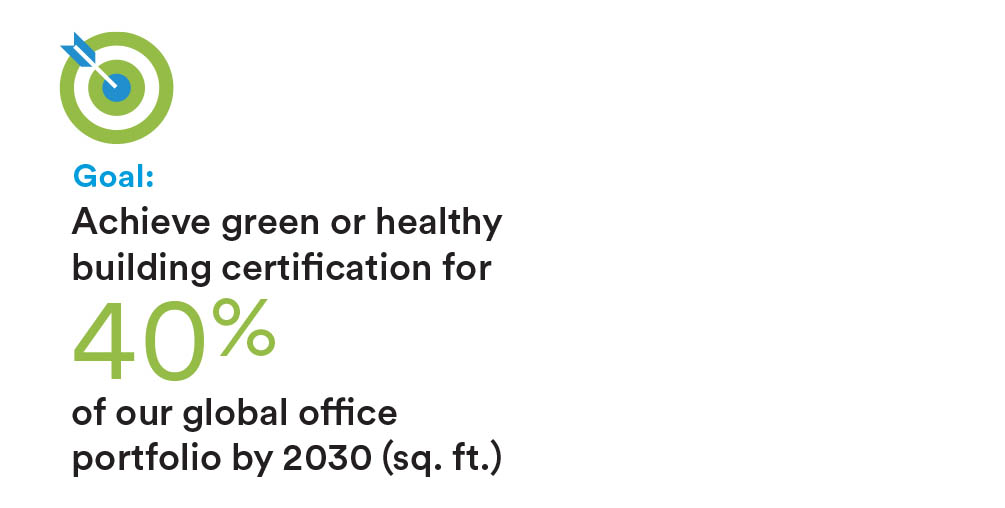 At MetLife, we recognize the impact of buildings on people, communities, and the environment, and are committed to developing programs that improve the financial and environmental performance of facilities that we own or operate. MetLife values our partnership with the ENERGY STAR program and has achieved ENERGY STAR certifications for 24.5 million square feet of real estate, contributing to reduced energy use and emissions across its portfolio. Of this, 3.5 million square feet is attributed to the corporate office network and 21 million square feet is attributed to portfolios managed by MIM, MetLife's institutional asset management platform. Additionally, some of MIM's real estate assets reduced energy consumption by 2% in 2020.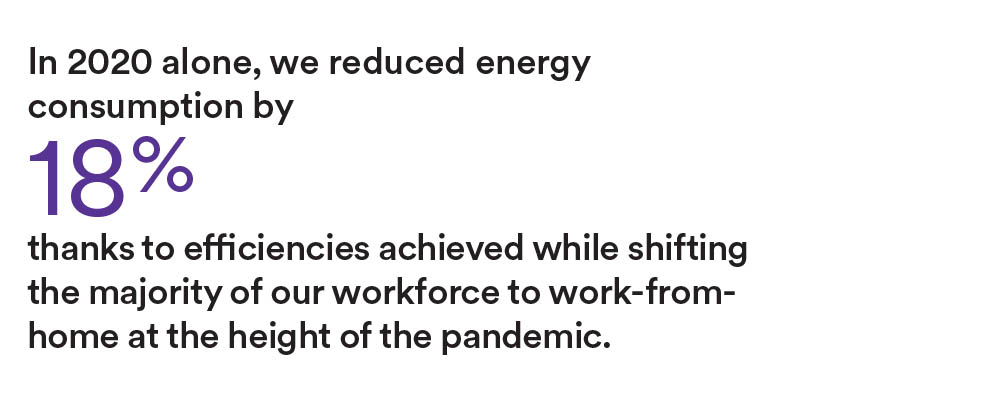 Environment for Our Employees
Healthier Workplaces With Fitwel
Healthy workplaces are essential for people to thrive. In 2019, MetLife became the first life insurance company to earn Fitwel certifications for our commitment to healthy workplaces. Fitwel is a joint initiative of the U.S. Centers for Disease Control and Prevention and the General Services Administration.
To date, MetLife has obtained Fitwel certifications for three offices in the U.S. covering over 1.3 million square feet of real estate, including its global headquarters in New York City. MIM has also obtained certifications for eight properties held in its real estate equity investment portfolio.
Ending Single-Use Plastic Across MetLife U.S.
At the end of 2020, we successfully replaced plastic water bottles in all our U.S.-based "return to office" employee meals, dining and catering services, and procurement systems. We also eliminated all plastic beverage bottle and straw options in favor of more sustainable alternatives on the U.S. procurement platform.
Supply Chain Sustainability: Enhanced Transparency
Our Supply Chain Sustainability Program embeds sustainability criteria in our ongoing procurement process, encourages continuous supplier improvement, and incentivizes environmental stewardship and action to reduce GHG emissions. Every year we send out annual sustainability scorecards to all suppliers and offer awards to incentivize performance.
In 2020, 123 of our suppliers disclosed climate risks, GHG emissions, and other environmental data to us through the CDP's Supply Chain Program, a 91% response rate. Performance on the CDP Climate Change Questionnaire, along with other sustainability criteria, is incorporated into each supplier's annual management scorecard.
See MetLife's Supplier Code of Business Ethics for more information. >
69.58 million
metrictons inestimated annualCO2e
81%
of suppliers in the program reported having their own forward-looking climate targets
76%
suppliers are engaging their own suppliers on climate issues
Want the full report?
Download for comprehensive insights and strategies.