Read on for more in this Chapter
MetLife Foundation supports millions of people on their journey to financial health, empowering low- and moderate-income people to build better lives for themselves and their families and to envision a more confident future.
Inclusive Fintech 50: Fostering Innovation to Improve Financial Inclusion

Financial technology (fintech) plays an increasingly important role in providing essential financial services to vulnerable and underserved populations, yet many early-stage fintechs struggle to secure sufficient investment to fuel growth and expand their reach. The Inclusive Fintech 50 competition, co-founded by MetLife Foundation in 2019, spotlights promising inclusive fintechs and the role they play in serving an estimated 3 billion financially underserved customers globally. The 2020 competition attracted more than 400 applicants, operating in 111 countries and reaching 116 million customers. Through a competitive process led by an independent judging panel—including representation from MetLife's Innovation team, 50 early-stage fintechs were selected for their efforts to drive financial inclusion and resilience.
In a year characterized by lockdowns and social distancing, many of the Inclusive Fintech 50 winners demonstrated the value of a digital-first business model by rapidly adapting to support customers. For example, Kaleidofin, a neo-bank in India, engaged their customers through digital channels and found that 70% continued to save digitally despite the lockdown. Aflore in Colombia leveraged and incentivized its network of female advisors to communicate with customers and make sure their needs were being met—helping Aflore close its Series B funding amid the pandemic.
By shining a light on these promising early-stage companies, Inclusive Fintech 50 helps drive investment to companies that are providing critical financial services to assist people as they navigate economic uncertainty and build resilience for the future.

Finance Forward: Supporting Startups Focused on Financial Health
In 2019, MetLife Foundation and Village Capital launched Finance Forward, a global coalition to support early-stage entrepreneurs building tech-enabled solutions around financial health in the United States, Latin America, Europe, the Middle East, and India. To date, Finance Forward has supported more than 89 ventures from over 20 countries with over 2,400 hours of direct mentorship and engagement from 100 MetLife team members, and, in the process, has given away more than $600,000 in grants.
In 2020, Finance Forward programs took place virtually in Latin America, U.S., Europe, MENA, and India. Entrepreneurs that participated in these programs around the world offer innovative solutions to improve the financial health of individuals and businesses in their respective regions.
Some examples include:
Markit, in Lebanon, which helps small and medium-sized grocers offer their inventory and delivery services to customers through an online platform;
U-Zave, in Chile, which helps Latin Americans save a percentage of every purchase they make;
Finclude Ai, in Ireland, which creates a pan-European credit worthiness and affordability score that can help migrants working in the European Union; and
Finerio, in Mexico, which helps fintechs, banks, and financial institutions update their services and process client data for useful insights on financial well-being.

Common Cents Lab: Improving Financial Health for the Unbanked
MetLife Foundation is the founding partner of Common Cents Lab (CCL) and has supported its work since 2017. CCL is a financial decision-making research lab at Duke University that creates and tests interventions to help low-and moderate-income households improve their financial health. CCL's team of researchers and experts leverage research gleaned from behavioral economics to design product interventions that help drive five positive financial behaviors:
Increasing short-term savings;
Increasing long-term savings;
Decreasing bad debt;
Decreasing expenses; and
Increasing income.
In 2020, CCL worked on 65 projects to improve financial well-being across 48 different organizations in the United States, Turkey, Mexico, and China, expanding its cumulative direct reach to over 1.5 million people. If these interventions were rolled out at full scale, they would have an estimated reach of over 6 million people.

Sesame Workshop: Getting an Early Starton Financial Health
In partnership with MetLife Foundation, Sesame Workshop launched Phase II of its Dream, Save, Do (DSD) program in three countries: Brazil, Japan, and Mexico. This phase emphasized planning—a vital skill in building financial health—and included an explicit focus on adults. Due to the pandemic, Sesame Workshop modified plans in each market based on local restrictions and opportunities, ensuring that teachers, parents, and children could continue to interact with the content. Many of the restrictions on schooling and in-person gatherings remain in effect, and all teams have successfully adapted their programs for continued application by teachers and facilitators in their "new normal."
In Brazil, Sesame Workshop worked with families and children with DSD content in multiple ways, including:
Engaging families using WhatsApp;
Sending families weekly bundles of content;
Organizing a special podcast series to promote the educational goals of the program; and
Collaborating with five education departments toassess and plan virtual trainings.

Trickle Up: Empowering the Most Financially Vulnerable
With MetLife Foundation's support, Trickle Up delivers an innovative social and economic empowerment program for women called the Graduation Approach. This proven approach enables participants to receive seed capital to jumpstart a business, learn financial and business management skills, and come together in groups to save, access credit, and link to banks and government financial programs. Women not only grow their assets, but they also gain skills and confidence to achieve greater economic self-sufficiency as well as leadership in their communities. On average, for each woman Trickle Up empowers, five people benefit. And when women succeed, so can their children and families.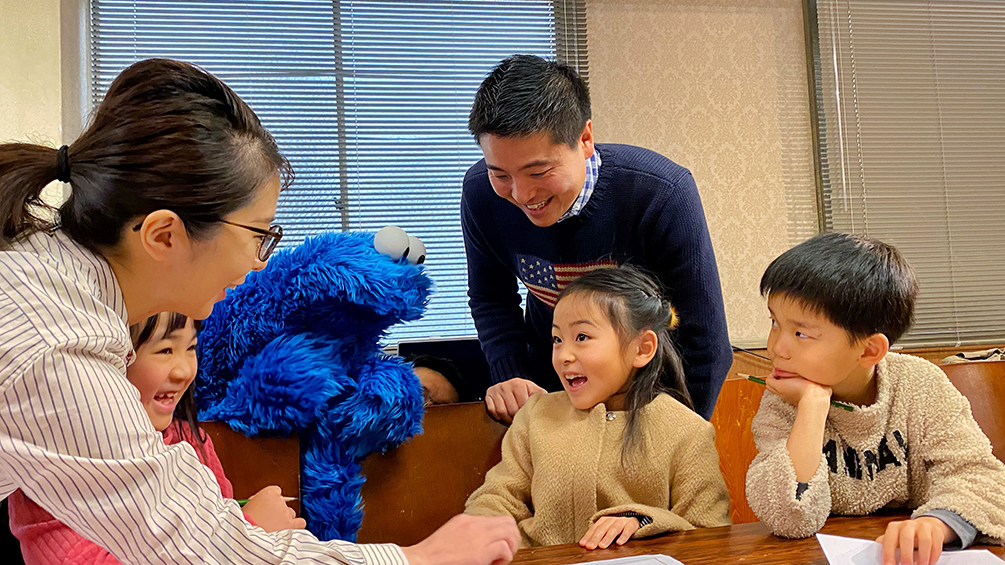 MetLife Foundation partner, Sesame Workshop, holds workshop in Kumamoto, Japan. Pictured prepandemic.
Inclusion Plus: Investing in Fintech Social Enterprises
MetLife Korea Foundation has hosted an Inclusion Plus Solution Lab since 2018, focused on helping fintech social enterprises evaluate their social value and impact through mentorships, in partnership with Korea Social Investment. Every year, we organize a "Deal Share Live Day" with about 30 impact investors joining 10 social enterprises for a day of discussions and the chance to compete for a KRW 150 million impact investment and a $30,000 grant. The 10 teams completed 12 weeks of acceleration in 2020, including virtual mentorship and participation in the "Deal Share Live Day." In its second year, the Inclusion Plus Solution Lab kicked off with 10 social enterprises, including those that provide financial transaction services for migrant workers, virtual branch services for financially vulnerable populations, and a savings application for millennials.
Bharat Inclusion Initiative
MetLife Foundation joined a consortium of top global and local organizations to support a program called Bharat Inclusion. The program provides rigorously selected social entrepreneurs with high-quality training, advisory services, financial support, mentorship, and market access to grow their business and improve financial health of low- to moderate-income people in India.
The program is implemented by the Indian Institute of Management, Ahmedabad, a globally renowned business school, and MicroSave, a MetLife Foundation grantee and industry leader, and is supported by leading foundations including JPMorgan Chase Foundation, Gates, Michael and Susan Dell, and Omidiyar Network. Entrepreneurs are grouped across three cohorts: Build (idea stage), Validate (proof of concept), and Grow (ready to scale).
So far, the program has supported 27 early-stage startups in three cohorts. Cumulatively, these startups have already served over 3 million low- to moderate-income individuals and raised over $14.5 million in funding since their participation in the Inclusion Plus Solution Lab.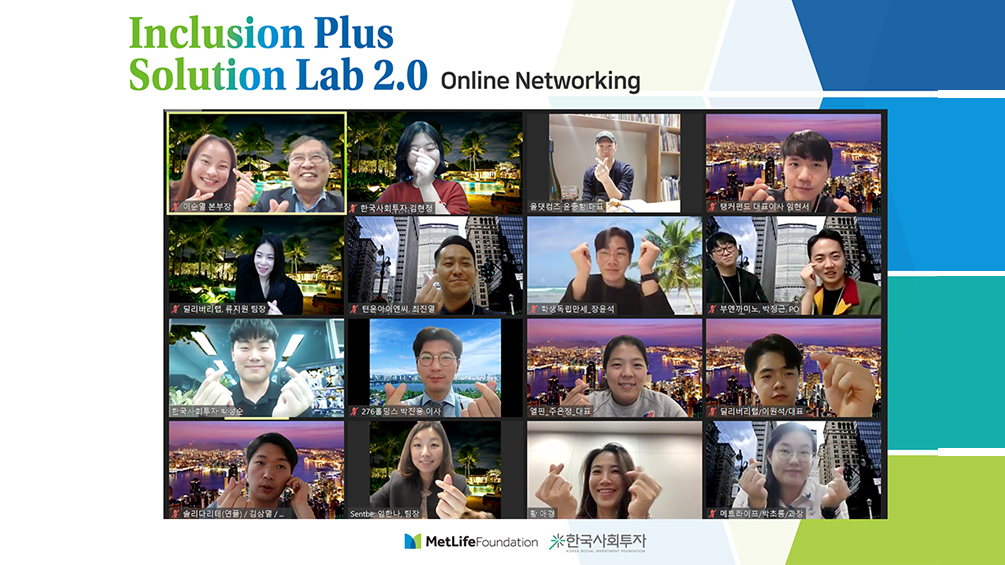 Inclusion Plus Solution Lab online networking event.
A Private Sector Alliance to Promote Financial Inclusion in Mexico
MetLife Mexico was invited by the United Nations Development Programme, to cofound a new Alliance, called the Private Sector Alliance to Promote Financial Inclusion, to further expand financial inclusion, given the rich legacy of MetLife Mexico and Fundación MetLife in the country. The Alliance has focused on developing collaborative business models that not only help companies do well financially, but also expand inclusion and financial health for underserved customer segments. This represents the first high-level, private-private partnership coordinated by a UN organization to foster financial inclusion in Mexico.
New Working Group: Achieving the UN SDGs in Mexico
Government, business, and NGOs are working together in Mexico to accomplish the UN's 2030 Agenda for Sustainable Development and the SDGs. The Mexican business sector, together with the UN Global Compact, have agreed on a common agenda to coordinate all business efforts to address sustainable development challenges and to advance on the objectives and goals of each of the 17 SDGs. As a part of this, MetLife Mexico was invited by the Business Coordinating Council and the office of the UN Global Compact to lead the Good Health and Well-Being (UN SDG#3) working group. This working group will work to promote sustainability through its products and services, as well as healthcare and wellness solutions for employees, customers, suppliers, and the communities in which the companies operate.
Laboratoria and MetLife Foundation Help Young Women Plan for Their Future
MetLife Foundation partner Laboratoria pivoted their working Chile to be completely virtual. While training young women to build technology skills, Laboratoria developed a behaviorally-designed program to provide these newly employed women with better tools to manage their increased income. The coaching, counseling, and peer communications are focused on managing day-to-day expenses, saving for emergencies and retirement, and managing and understanding debt.
Accion: Enabling Crowd funding Solutions to Help Small/Medium Size Businesses
In 2018, MetLife Foundation began a three-year partnership, including $3 million in funding, with global nonprofit Accion in Latin America to empower underserved consumers and enable financial service providers to better serve low-income Latin Americans. With MetLife Foundation's support, Accion partnered with local fintech Red Capital in 2020 to adapt their crowd funding invoice financing platform to reach small businesses. Red Capital is the first crowd funding platform with a sole focus on small and medium enterprises in Chile, enabling them to maintain their businesses and keep their teams employed during the pandemic—critical in a country where nearly 30% of the population works in the informal sector.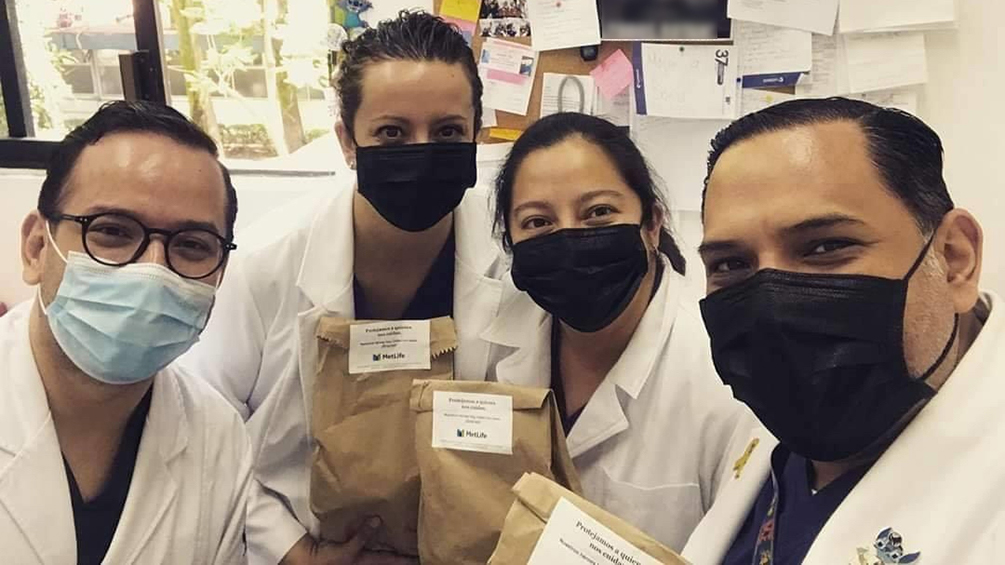 MetLife provides food to the medical staff at Hospital General de Mexico.
Want the full report?
Download for comprehensive insights and strategies.