In October 2020, we hosted our second Triangle Tech X, a virtual summit held in the U.S. featuring experts and leaders in technology and business as well as a keynote by MetLife President and CEO Michel Khalaf, focused on three key themes: accelerating DEI through top female talent; strengthening the workforce by empowering women in the workforce and future-proofing their careers in STEM roles; and innovating for tomorrow by examining how to grow equality and diversity in the workforce.
Over three days we had 2,700 attendees from MetLife and externally, participate in 20 sessions that showcased more than 50 speakers, including four MetLife Board members and 25 MetLife female executives.
In the U.S., the Multicultural Professionals Network (MPN) led Inclusion Dialogues to promote courageous conversations focused on racial injustice and other DEI topics. These sessions also focused on amplifying the voices of ethnically and racially diverse communities.
And MetLife's Military Veterans Network hosted a three-part webinar series titled "Adapting in Times of Uncertainty" with guest speakers sharing inspiring anecdotes about the challenges veterans face in uncertain times. Our U.K. office participated in the Race Equality Week for the first time, launched by Race Equality Matters, with the objective of uniting organizations and individuals to address issues affecting ethnic minority employees.
"We have an opportunity to turn this moment of crisis into a moment of opportunity that accelerates the number of women entering STEM professions," said Susan Podlogar, EVP and chief human resources officer at MetLife. "The key is to remove roadblocks so that top talent can enter, stay, and flourish in STEM careers."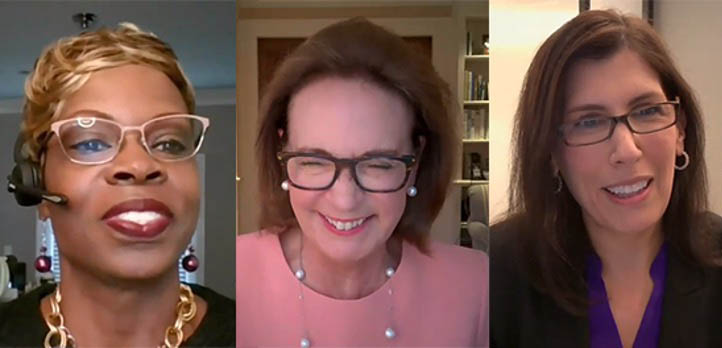 MetLife Triangle Tech X experts and leaders present virtually. Pictured left to right are Jacqueline Mims, CEO and Founder of My Global STEM Academy, Catherine Kinney, MetLife Board of Directors member, and Marlene Debel, MetLife's Chief Risk Officer.