CHAPTER 1
Diversity, Equity & Inclusion: From Commitment to Action

Read on for more in this Chapter
Approach
2020 was a year of reckoning. The global pandemic disrupted the way we work and transformed how we connect and interact with each other. It was also a year where we tackled complex and sometimes difficult conversations around race and inequality. Despite these challenges, we stayed firm in our commitment to cultivate a culture where everyone feels heard and valued for their unique attributes.
We stayed true to our strategic priorities: Champion Inclusion, Strengthen Our Diversity, and Grow our Impact. However, we continued to amplify our efforts globally, especially in response to the civil unrest as a result of racial inequality. We recognized that each of us must do more to actively reduce bias in our workplaces, understand each other, and build inclusive communities around the world. Inclusion begins with each of us.
Three Data-Driven Focus Areas
As a company that prioritizes innovation, we look at the data to guide us where to make structural changes and how we must invest in systemic development. Our long-term aspiration is to be a leading company across DEI with top quartile performance. To achieve this, we measure ourselves against best-in-class benchmarks and our internal engagement survey—My Voice—to monitor our progress and effectiveness against three strategic priorities: Champion Inclusion, Strengthen Our Diversity, and Grow Our Impact. These three priorities require us to foster greater leadership commitment and address cultural and structural inclusion barriers that can stand in the way of our goals.
The extensive analysis of our workforce data, benchmarks, and employee survey insights conducted in 2019-2020 guided our actions against the following:
Driving change through leadership accountability and commitment;
Building an inclusive culture; and
Strengthening our gender, racial, and ethnic diversity.
This will allow us to build a workplace that truly works for everyone. We clarified how we define diversity, equity, and inclusion at MetLife:
"Diversity" is leveraging our unique attributes and perspectives;
"Equity" is everyone receiving the support that they need to be successful; and
"Inclusion" is ensuring that through our interactions, everyone is fully respected, recognized, and valued.
Driving Change Through Leadership Commitment and Accountability
Global Diversity, Equity & Inclusion Leadership Council
To build greater leadership commitment and accountability, we launched a new Global Diversity, Equity, and Inclusion Leadership Council led by MetLife President and CEO Michel Khalaf. The council will drive and execute our DEI strategy across businesses, functions, and regions, provide strategic guidance and insight to improve performance, and visibly promote and champion DEI internally and externally.
Building an inclusive culture
Expand All
"Inclusion Begins with Me"
We launched Inclusion Begins with Me, a global comprehensive program outlining the behaviors and actions of an inclusive culture. The program offers a framework for inclusion dialogues and a webinar series that provides foundational learning and increases awareness of various topics.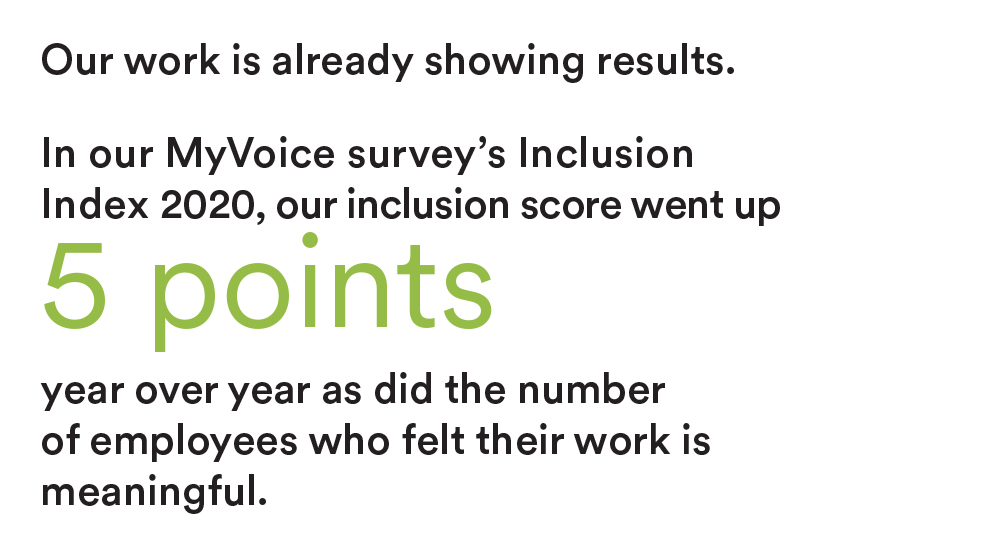 Mandatory DEI Education
The three-part, mandatory DEI education was launched in response to employees' desire to understand more about creating a culture of inclusion and encouraging open dialogue at all levels of the organization. The training elevates the hard work still ahead to eliminate bias, intentional or unintentional, from our workplaces and communities. The first part introduces the many internal and external dimensions of diversity that make up who we are, create our assumptions, and influence our behavior.
In 2021, we are rolling out the other two parts with new courses on bias and microaggression, as well as working across cultures and building allyship.
Inclusion Dialogues
In 2020, we swiftly and strongly responded to calls for more systemic racial justice across America, as well as within our own four walls. We recognized that despite having made strides, there is more that must be done to uproot systemic injustices and ensure every member of our community feels included, equal, and safe. We began to have more real conversations rooted in empathy, vulnerability, courageous candor, and inclusiveness. Nearly 1,500 of our U.S. managers committed to Inclusion Dialogues too. These dialogues included office hours to encourage more conversation among managers and team members focused on racial justice, equity, and overall inclusion.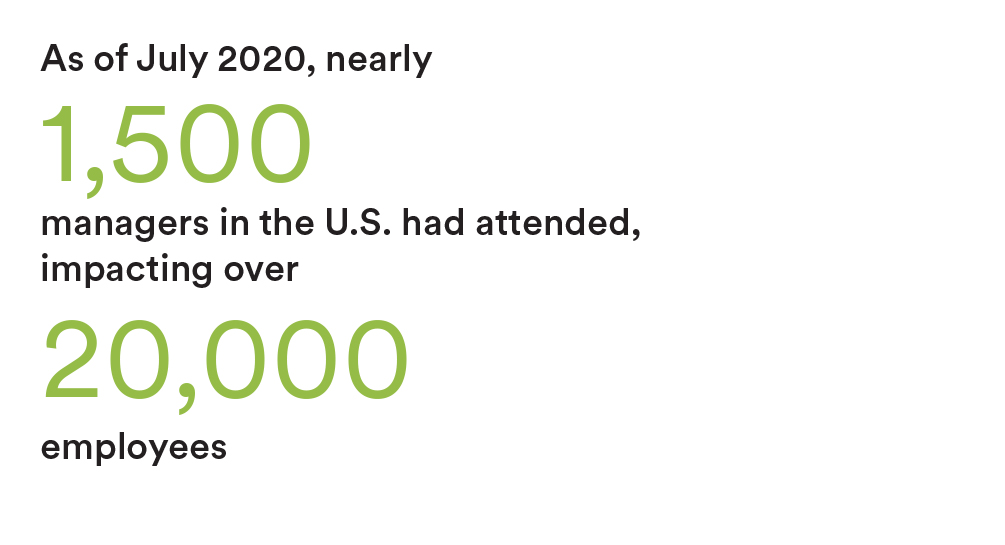 Inclusion Tuesdays
We hosted Inclusion Tuesdays, designed as awareness-building sessions for all MetLife employees to help shift behavior. Held over five weeks, Inclusion Tuesdays provided an in-depth learning experience of the five practices that contribute to an inclusive culture and encouraged conversation among colleagues about their personal experiences and insights. Participating thought leaders focused on showcasing one practice per webinar, helping to make inclusion personal:
Ownership and belonging: Lead in a way that recognizes and celebrates unique and dissenting perspectives while creating a collaborative and open-minded environment.
Breaking biases: When making decisions, consider the reasoning, challenge evidence, recognize bias, and take steps to control the tendency to be biased.
Microaggressions: Identify insults and indignities that people experience in day-to-day interactions that negatively impact people's wellness, given their cumulative effect.
Allyship: Be willing to take action in supporting another person or group.
Valuing identities and differences: Create space for everyone to feel accepted, respected, and heard.
After the five sessions, we began to synthesize the findings and insights to help leaders and teams use the information to start conversations. For example, Jamie Madden, while serving as Vice President, Distribution Development, facilitated a virtual discussion of learnings and key takeaways from the sessions. Since then, she hosts a monthly conversation with her team where they select one of the webinars from the Inclusion Tuesday series, watch it individually, then set up small groups to discuss the webinar and share feedback and personal experiences.
Strengthening Our Gender, Racial, and Ethnic Diversity
An inclusive workplace culture evokes a feeling of being valued and having a deep sense of belonging. As we work diligently to cultivate a culture that works for everyone, we must be equally focused on uncovering and dismantling cultural and structural barriers that can obstruct careers and undermine our efforts to increase and sustain diversity, equity, and inclusion.
Diversity, Equity & Inclusion

Expand All
Gender equity
We continued to build on our commitments to advance gender equity across MetLife, including launching new partnerships with the UN Global Compact and UN Women to help drive leadership accountability in addressing gender equity in the workplace, marketplace, and community. We kickstarted this work in early 2020 by asking all country managers to sign the UN Women's Empowerment Principles (WEPs). The principles reinforced that we're focused on building a workplace that works for women and aims to close gender gaps.
In February 2020, MetLife became the first U.S.-based insurer to sign the UN WEPs.
As global WEP signatories, we didn't just pledge to make improvements, we began taking clear actions to identify our strengths and areas of opportunity.
In 2020, we used the WEP Gender Gaps Analysis to gather the data to inform further efforts. The findings from the 37 markets that completed the WEP Gender Gaps Analysis gave us a customized and systemic perspective on gender equality in the areas of leadership, workplace, marketplace, and community. Upon completion, all markets received support in developing a time-bound action plan to close any identified gaps.
Supporting Cultural Diversity Around the World
In October 2020, we hosted our second Triangle Tech X, a virtual summit held in the U.S. featuring experts and leaders in technology and business as well as a keynote by MetLife President and CEO Michel Khalaf, focused on three key themes: accelerating DEI through top female talent; strengthening the workforce by empowering women in the workforce and future-proofing their careers in STEM roles; and innovating for tomorrow by examining how to grow equality and diversity in the workforce.
Over three days we had 2,700 attendees from MetLife and externally, participate in 20 sessions that showcased more than 50 speakers, including four MetLife Board members and 25 MetLife female executives.
In the U.S., the Multicultural Professionals Network (MPN) led Inclusion Dialogues to promote courageous conversations focused on racial injustice and other DEI topics. These sessions also focused on amplifying the voices of ethnically and racially diverse communities.
And MetLife's Military Veterans Network hosted a three-part webinar series titled "Adapting in Times of Uncertainty" with guest speakers sharing inspiring anecdotes about the challenges veterans face in uncertain times. Our U.K. office participated in the Race Equality Week for the first time, launched by Race Equality Matters, with the objective of uniting organizations and individuals to address issues affecting ethnic minority employees.
"We have an opportunity to turn this moment of crisis into a moment of opportunity that accelerates the number of women entering STEM professions," said Susan Podlogar, EVP and chief human resources officer at MetLife. "The key is to remove roadblocks so that top talent can enter, stay, and flourish in STEM careers."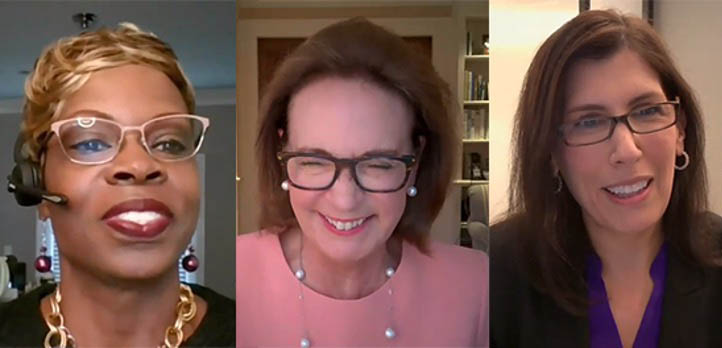 MetLife Triangle Tech X experts and leaders present virtually. Pictured left to right are Jacqueline Mims, CEO and Founder of My Global STEM Academy, Catherine Kinney, MetLife Board of Directors member, and Marlene Debel, MetLife's Chief Risk Officer.
EXCELERATE: Talent Sponsorship
We launched EXCELERATE, a new talent sponsorship program to help accelerate the development and progression of high-performing ethnically and racially diverse talent at the assistant vice president to officer level through targeted development, as well as increasing visibility, access, and engagement with Executive Group leaders. The initial pilot program included Black/African American and Hispanic/Latino talent and will expand in the future to include all underrepresented groups.
ADVANCE Racial Equity and Inclusion Roundtable
We created the ADVANCE Racial Equity and Inclusion Advisory Roundtable to identify actions we can take to make a difference with our people, customers, and shareholders. The roundtable consists of a small group of external thought leaders from business, academia, and nonprofits.
MetLife Foundation Commits to Advancing Racial Equity
MetLife Foundation committed an additional $5 million over three years to advance racial equity in the U.S. These new grants will be used to promote Black/African American educational and career opportunities, Black/African American business ownership, and racial justice initiatives. This builds on MetLife Foundation's decades-long work on financial inclusion among Black/African American communities, including its annual contribution of $10 million to support diverse communities and racial equity. MetLife had $100 million1 in impact investments' that supported diverse communities and racial equity, as part of a broader focus on improving financial health in low-income communities in the United States.
The work began right away in 2020 with immediate support of $1 million given to the United Negro College Fund and $250,000 to the NAACP Legal Defense and Educational Fund, Inc. MetLife has partnered with the UNCF since the organization was founded 76 years ago. The $1 million donation will help finance 60 college juniors attending HBCUs.
Want the full report?
Download for comprehensive insights and strategies.
1 $100 million is as of December 31, 2020, at fair value.