Our Reforestation Efforts
MetLife's commitment to plant 5 million trees by 2030 is a contribution to the global effort to reduce carbon emissions in the atmosphere and help reforest areas that have been decimated by natural disasters, including hurricanes, floods and wildfires, as well as deforestation by humans.
We expect to reach our target through initiatives that include large-scale reforestation programs in national and state forests, distribution of trees to homeowners in communities impacted by disaster and colleague volunteer projects in urban areas around the world. We are engaging stakeholders in this commitment and educating our colleagues, customers and community members about the importance of trees. MetLife is a member of 1t.org, a global leadership platform to mobilize, connect and empower the global reforestation community to conserve, restore and grow 1 trillion trees by 2030.
Conserving, Restoring and Planting Trees
Around the World
Click a location to learn more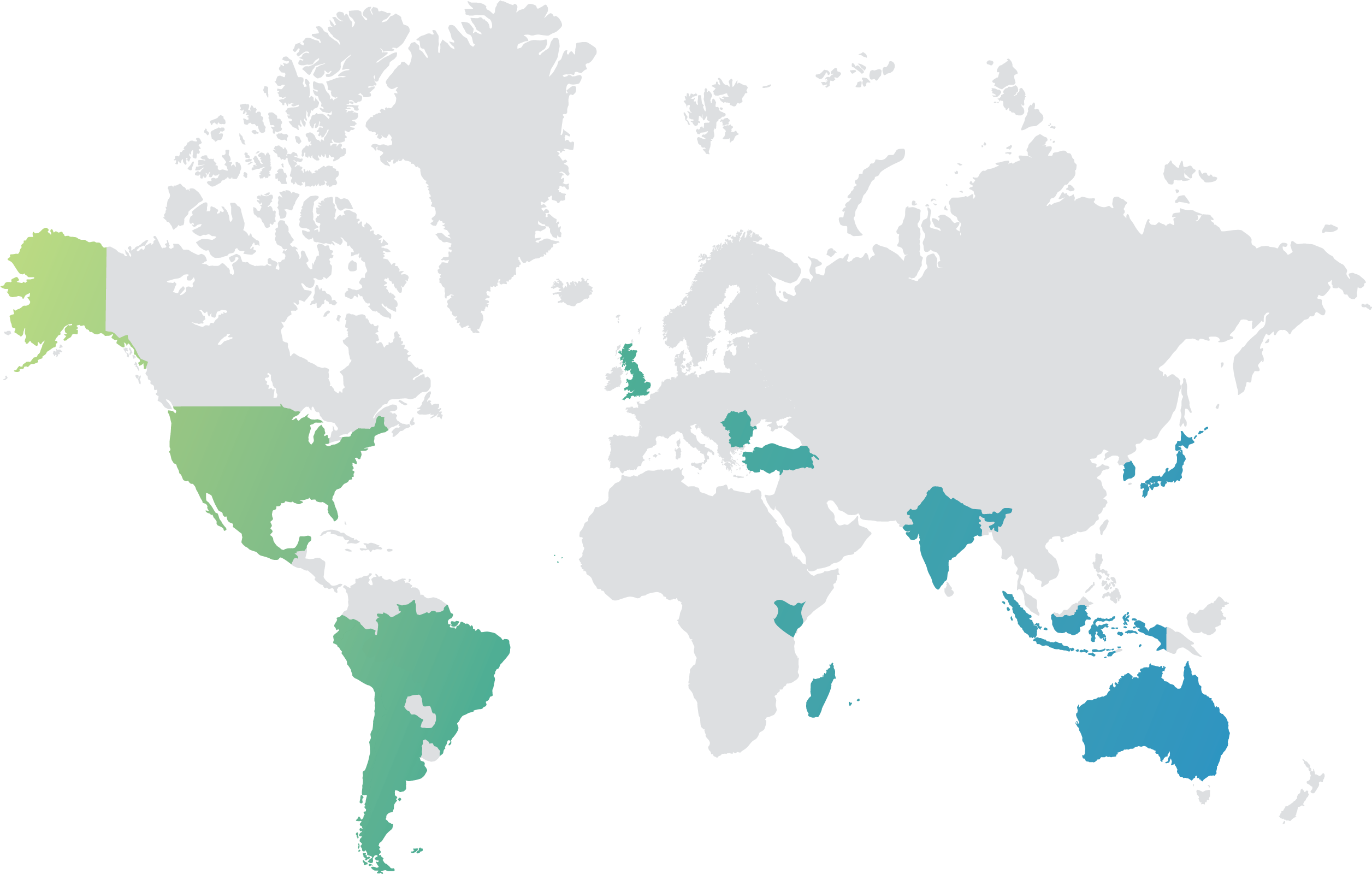 Global Tree-Planting Initiatives ~800,000 total trees planted since 2020
1
U.S.
---
In the U.S., MetLife supported the planting of 20,000 trees in Flagstaff, Arizona, 9,300 throughout California, 200,000 in Florida, 20,000 in Michigan, 2,300 in New York, 2,273 in North Carolina and 10,000 in Oregon in partnership with Arbor Day Foundation. In Tampa, Florida, more than 20 colleagues, friends and family joined Tampa Bay Reforestation and Environmental Effort, Inc. staff and Hillsborough Community College students to plant 119 trees.
2
Mexico
---
In Mexico, more than 200 volunteers helped plant 11,200 trees with nonprofit Reforestamos.
3
South America
---
Throughout South America, MetLife contributed 6,000 trees to the Andes Mountains in Argentina, Bolivia, Chile, Ecuador and Peru with Arbor Day Foundation. In Argentina, we planted 26 trees in partnership with Fundación Impactar.
4
Brazil
---
In Brazil, over 5,000 trees were planted including 10 commemorating Tree Day.
5
United Kingdom
---
In the United Kingdom, we planted 20,000 trees across 12 community forests in partnership with Arbor Day Foundation.
6
Bulgaria
---
In Bulgaria, 25 colleagues planted 200 trees at the Monastery of St. Archangel Michael in Kostinbrod.
7
Romania
---
In Romania, we planted 62,000 trees with More Green and ProPark, a regional high for EMEA.
8
Turkey
---
In Turkey, colleagues established the MetLife Employees Memorial Forest, where we planted 8,700 saplings, including 560 dedicated to each of our 366 colleagues and 194 business partners.
9
EMEA
---
Throughout EMEA, MetLife businesses planted two trees in honor of every colleague in the region to reforestation projects in Kenya and Madagascar in collaboration with nonprofit Earthly, totaling 9,000 trees.
10
India
---
In India, PNB MetLife celebrated its 21st anniversary by planting 6,700 trees in 2022 as part of "Glow Green," our initiative to plant 40,000 total trees by 2024 at various locations around the country.
11
Nepal
---
In Nepal, we planted 5,000 trees in partnership with Arbor Day Foundation in Nawalparasi District to support Chitwan National Park, home to over 700 species of wildlife. Our efforts focused on helping improve local livelihoods and restore forests in areas of critical importance.
12
France
---
MetLife France planted 45,000 trees—one for every policy sold—on the Indonesian island of Java, in collaboration with nonprofit Planète Urgence.
13
Korea
---
MetLife Korea planted 3,400 trees in Gangwon Province to build a carbon-neutral forest in partnership with social venture Tree Planet. MetLife Korea Foundation also donated 5,241 trees to recognize students involved in the School Challenge program, a mobile-app-based competition to encourage children to take eco-friendly actions.
14
Japan
---
In Japan, 100 MetLife Japan colleagues, in partnership with Japan Environmental Education Forum, planted 1,000 trees in Miyagi prefecture to establish the MetLife Foundation Forest, and 22 colleagues with their families took part in a conservation activity in MetLife Forest in Hyogo prefecture.
15
Australia
---
In Australia, we planted 95 trees with the Royal Botanic Garden at their native plant garden at Mt. Annan.
More from this chapter
Learn more about for the environment in the links below:
Want the full report?
Download for comprehensive insights and strategies.