Read on for more in this Chapter
Making Financial Health Inclusive
In many of our markets, we distribute insurance through partnerships with banks, retailers, mobile phone operators, and affinity groups to overcome barriers to access.
We also develop partnerships with microfinance institutions, which provide affordable financial products and services to low-income people in rural areas. The simplified administration, issuance, and claim settlement processes that we have developed for these partnerships help streamline the process in developing markets and support our efforts to expand financial inclusion. 

Mexico
In Mexico, we offer a flexible life insurance product called Met99, designed to make financial planning more accessible to government employees. Customers can choose the protection they need from more than 20 benefits based on their life moment. A unique feature of Met99 is the capability to bring life and medical protection for the policyholder and their economic dependents within the same policy.
Korea
In Korea, MetLife also launched new features on its 360Health application, including allowing customers to simply take a photo of their meal and let artificial intelligence analyze calories and nutrients and assess food choices based on the individual's health status. The updated application can also examine exercise frequency, duration, and intensity and recommend the most effective and optimized regimen combining cardiovascular exercise with weight training. In the first five months since the update, there were more than 100,000 downloads.
MetLife introduced a new Mini Accident Insurance solution that covers all kinds of accidents for as little as the cost of a cup of coffee (~USD $3-$5). The solution pays KRW 10 million for accidental death, while KRW 100,000 is payable each time the insured is diagnosed with an accident-related fracture. The solution also includes basic healthcare services, and customers can access MetLife Korea's 360Health mobile application which offers easy health checkups, as well as AI-driven diet and exercise recommendations.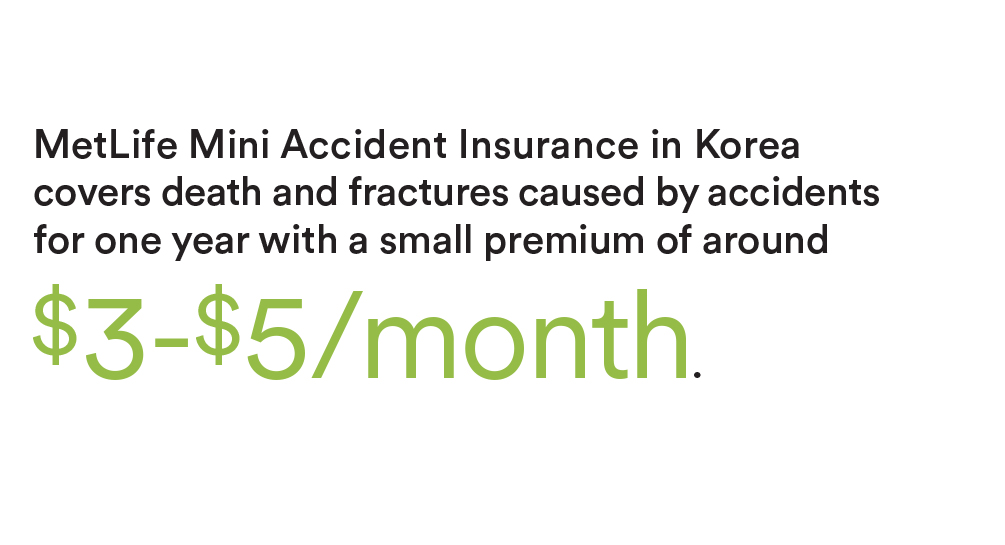 U.S.
In the U.S., we entered the United Kingdom longevity reinsurance market in 2020. As an offshore reinsurer, we provide longevity risk hedge solutions for U.K. insurers and leverage MetLife's long history and experience in managing longevity risk. Through pension risk transfer (PRT) transactions, direct insurers in the U.K. take on longevity risk from pension schemes. By partnering with MetLife, direct insurers can hedge this risk and provide more attractive PRT pricing to the pension schemes and more security to underlying pensioners.
EMEA
In EMEA, many of our products cater to low- and moderate-income families. These products protect our customers against death, sickness, or disability. For example, Women's Protect is a product specifically designed for women and covers cancer treatments, along with offering discounts on a variety of health and wellness benefits.
Italy
In Italy, we support customers who want to pay their insurance premiums in monthly installments, keeping our fees low and with no additional costs. Our entry fee allows low- and moderate-income consumers to access insurance.

Colombia
In Colombia, MetLife, in partnership with local financial institution Serfinanza and specialized agents, provides Life Insurance and Accident & Health Insurance products to customers who would otherwise have no access to insurance products.
Nepal
In Nepal, we help economically disadvantaged customers who may have limited access to financial products withour Rural Credit Life product, which provides insurance on microloans through microfinance institutions.
China
In China, we offer a flexible critical illness product package with a modular design. The product package consists of a series of base products and optional riders covering major and minor critical illness benefit, extra benefit for cancer, waiver of premium after critical illness, health management services, and maturity/death benefit. Customers can take the initiative to customize their health protection package according to individual needs. The solution can also be upgraded over time, making it more affordable for younger customers and allowing them to enhance their protection as their income grows.
Japan
In Japan, with life expectancy dramatically rising, along with age-related health concerns, we launched a new product in 2020 called Life Invest. Designed to help Japanese people live confidently in retirement, Life Invest is a yen-denominated variable insurance product that provides protection and asset-building functions at a reasonable monthly premium. Its objective: to help seniors extend their health- and wealth-spans to live well after retirement. Life Invest was developed based on MetLife's latest customer research which revealed that not only did seniors want to be better prepared for uncertainties post-retirement, but that young people, too, wanted to start investing early, but weren't sure how to begin.
Malaysia
In Malaysia, AmMetLife Takaful launched a new investment-linked plan called LegacySecure-iLink, a Shariah-compliant regular contribution investment linked plan that gives customers flexibility based on their individual financial needs. 
India
In India, PNB MetLife has partnered with India Post Payments Bank to launch Pradhan Mantri Jeevan Jyoti Bima Yojana to provide protection and financial security to the poor and underprivileged. This low-cost insurance option, provided through this partnership, seeks to bring stability to large sections of the uninsured population and introduce them into the financial mainstream. PNB MetLife also partnered with Religare Health Insurance to launch a combined health and life insurance solution called Mera Mediclaim Plan. The comprehensive plan, which includes coverage for COVID-19, offers customers accessible life insurance and quality healthcare coverage, with benefits like cashless hospitalization. This unique plan also provides a cost-effective solution for customers, offering a 7.5% discount for the bundled solution.
PNB MetLife also has introduced Claim Assure across its product suite to considerably reduce the amount of time and documentation required for our policyholders to make a claim to support them in their time of need.
Brazil
In Brazil, through an arrangement with the Itaú Unibanco bank, we offer dental coverage to millions of low- and moderate-income consumers.
Chile
In Chile, our pension fund administrator company ProVida provides our pension platform and advice on how to plan a financially healthy retirement to many low- and moderate-income segments of the Chilean population. Additionally, it provides financial inclusion programs especially aimed at women, providing them with tools to contribute to their pensions and grow at work.
2020 Sustainability Report
Creating Access and Opportunities for Women
We are committed to understanding and meeting the needs of women customers, who are fast becoming key household earners in markets where, traditionally, men have held these roles. As women continue to make inroads professionally, we identified a gap in the market for products designed specifically for their financial safety and health.
LifeCare Beautiful is offered in Nepal and has been specially designed for women, providing coverage for loss of life and female-centric diseases, namely breast and cervical cancer, the two most common cancers affecting women in Nepal.
Eve Female Care Health is a critical-care product offered in Lebanon, designed for women diagnosed with cancer, which pays them a lump sum upon diagnosis to help cover medical costs and other expenses.
Lady Care, offered in Greece, is a preventive healthcare program focused on gynecological cancer. It provides annual preventive control, monthly support, a one-time payment for diagnosis, and an aesthetic surgery rehabilitation benefit.
Women's Protect is a product specifically designed for women in the Gulf and covers female cancers. It also helps women stay happy and healthy by offering exclusive discounts on a variety of health and wellness benefits. Women who buy this product will receive 15% to 50% off dental, optical, and nutritional services, as well as discounts on gyms and spa facilities. Many of our products in EMEA cater to low- and moderate-income families. These products protect many of our customers against death, sickness, or disability in Cyprus, Greece, our Gulf markets, Lebanon, Czech, Slovakia, and Ukraine.
Life for Lucy is a critical illness product offered in Ukraine, exclusively for women.

Want the full report?
Download for comprehensive insights and strategies.